We all know that PEI is the place to be… in the summer. But did you also know that PEI is also a great place to be in the winter too! That's because there are many fun things to do with family and friends across the Island. 
Don't let the chilly winter weather stop you in your snow tracks; here are eight ways you can get out and Discover Canada's Food Island today this winter!
1. Winterdine and the Winter Warmth Festival
Hosted by Downtown Charlottetown Inc., this culinary festival sees participating restaurants create three-course set menus at $30-40 price points. For 2021, people can enjoy WinterDine menus seven days a week starting January 18th until February 7th! If you're in the Charlottetown area, be sure to check out WinterDine's website and book a reservation at your favourite spot.
Explore Summerside encourages you to warm up your winter by partaking in the Winter Warmth Festival, running from February 8-28th in Summerside. This new culinary festival highlights Summerside restaurants and locally sourced food that will fill you with quality, wholesome dishes that Exlplore Summerside says will invigorate your heart, mind and soul! Head to the City by the Sea and tantalize your taste buds with local food. We can all agree on local food; it just tastes better!
Pro Tip: Some of these restaurants will also accept Canada's Food Island Gift Card, so be sure to cross-reference and use it to pay for your meal!
2. Snowy Staycations
Since we can't book a warm vacation down south this year, why not book a wintery staycation on PEI!
There are lots of family-friendly options for staycations across PEI. Whether it be sleigh rides, tapping maple syrup trees, ice skating or winter campfires, there are many great vacation opportunities on the Island.
Pro Tip: Enjoy a getaway at one of our many hotels and inns and make a night of it by adding a dining experience at one of our one of local restaurants.
3. Shop Sno-cal
Shop Snow-cal: shopping local but in the winter!
It's vital to Love Local, PEI, especially in the winter. If you are in the market for something new, stop and think if you can buy it from a local provider. When you purchase goods and services from local businesses, you're supporting their dream!
Check out our Merchant Directory for a list of local businesses that you can support and use your Canada's Food Island Gift Card.

Pro tip: You can use the sort feature on the online directory to find businesses closest to you and print the list!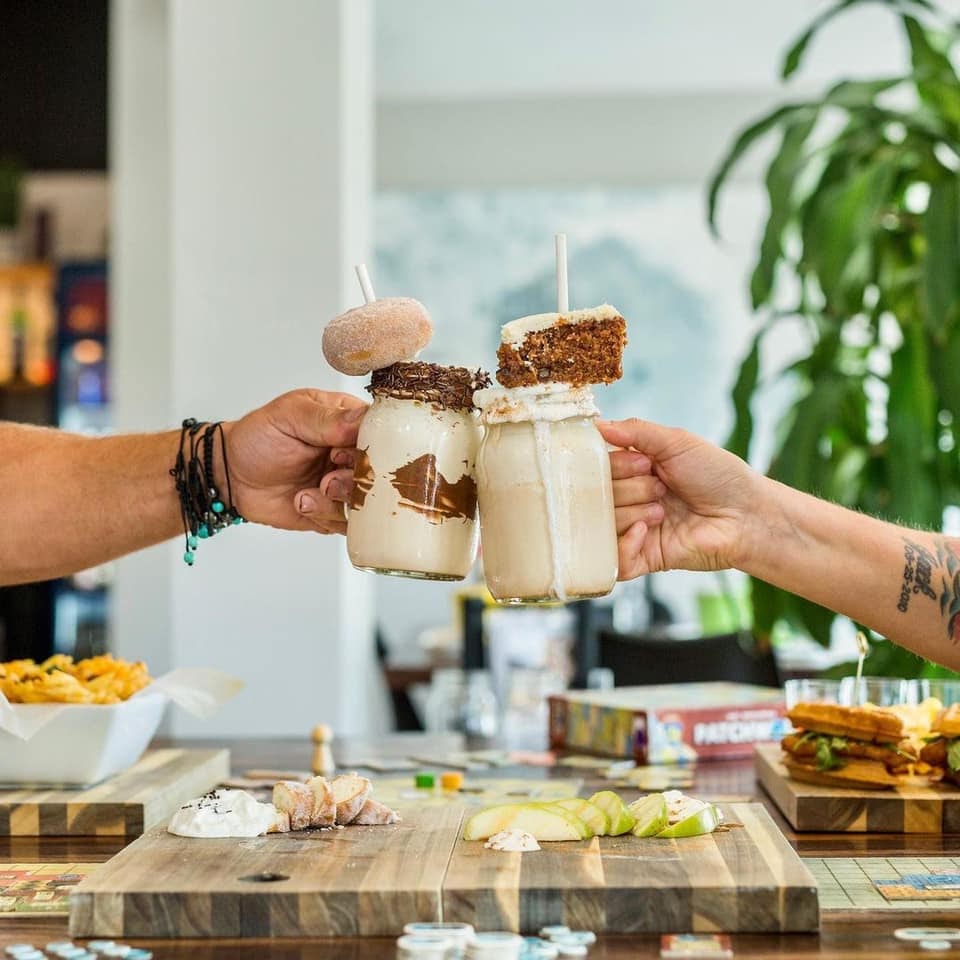 4. Indoor Activities
Does the winter weather make you want to stay inside? No problem!
We're quite lucky on PEI that we're still able to enjoy live music safely. Trailside Music recently opened a larger venue that can host more guests safely, socially distanced. Trailside also provides local musicians with a chance to play in front of a live audience again. If you're a music lover – be sure to check out their website and see a list of upcoming shows.
If you're in the Summerside area, Brother's 2 safely hosts live music throughout the week. Also be sure to check out Harbourfront Theatre calendar of events. They have shows scheduled for the Spring, Summer and Fall.
Pro Tip: You can also use your Canada's Food Island Gift Card at all of these venues to enjoy live music and theatre!
If you are a beer fanatic then grab your clan and make a plan to visit one of the many craft breweries on the Island. From Summerside (Evermoore) to Borden-Carleton (Lone Oak Brewery) to Charlottetown (PEI Brewing Co. and Upstreet Craft Brewing) to Montague (Copper Bottom and Bogside) there's a craft brewery to stop and enjoy a good brew! If craft beer isn't your thing but Island-made spirits are then be sure to stop in Warren Grove to visit Deep Roots Distillery and try their award-winning products . Deep Roots has also just started a sister company focusing on craft alcoholic ciders made from the apples they grow on the orchid!
Pro Tip: You can use your Canada's Food Island Gift Card at all of these hoppin' establishments.
5. Stayin' cozy at home
Chilly outside? Well, chill out, and stay warm and cozy at home!
There are still ways to discover Canada's Food Island without having to venture outside your home! Order some local dishes from restaurants through local delivery apps or pre-order some brews from local breweries and have them delivered right to your doorstep.
Other ways to plan to stay inside instead of venturing outside in the cold is to pick up a good book from local bookstores like the Bookmark in Charlottetown or Seaside Books in Summerside. Suppose you're more of a music lover, then why not pick up a new record from Back Alley Music.
There are many ways to discover Canada's Food Island while home!
6. Winter outdoor activities
Love the outdoors in the winter? You're in luck! There's lots to do this outside this winter like…
Have you ever wanted to snowshoe with goats? Well now's your chance, Island Hill Farm offers this fun way to get out and play with some furry friends. Let the goats guide you on a snowy adventure!
Alexander and Darlene's Haven Farm are also putting on some fun outdoor winter events on Islander Day (February 15th) and during March Break (March 15-19th). This event includes miniature horse cart rides, fun with miniature goats, rabbits, horses and an alpaca, an outdoor firepit and the hot chocolate is supplied! Check out their Facebook page to book your spot.
Organizations like Island Trails have groomed some pretty excellent trails all over PEI for Islanders to enjoy. Check out the Island Natures Trail website to plan your next hike. Then, we suggest you map out the nearest coffee shop, restaurant, or brewery to enjoy a post-hike delight! If you need inspiration for that, check out our Merchant Directory and be sure to use Canada's Food Island Gift Card to pick up the tab.
We also recommend checking out the Regional Tourism Associations' social media pages, like Points East Coastal Drive, Discover Charlottetown, Cavendish Beach, Explore Summerside, Central Coastal Tourism, and North Cape Coastal Drive. They promote fun winter activities in their areas, so by following them, you'll never miss out on the fun.
7. Create your own 'day-trip' itinerary
If the winter weather has got you wondering what to do, why not create a day trip itinerary to explore a different part of the Island!
From tip-to-tip, PEI has many little communities full of fun and exciting activities. Maybe there's a craft shop, brewery, local producers shop, restaurant or landmark on the other side of the Island that you've always wanted to visit but never found the right time. Well, the time is now! Plan a day trip, and make sure to use your Canada's Food Island Gift Card at stops along the way!
8. Create your own island-inspired recipes
We've got a recipe for a winter-friendly good time; pick out your favourite Island-inspired recipes and head to a local fishmonger, butcher shop, farmers market or locally owned and operated grocery store to pick up the listed ingredients!
If you need some help picking the best dish to prepare, head to some of our favourite resources that provide lots of great recipes featuring some ingredients that are known to be PEI's best: PEI Mussels, PEI Lobster, Prince Edward Island Potato, Island Beef, PEI Oysters.
You can Discover Canada's Food Island in all sorts of ways, no matter the time of year. So, start planning your next PEI winter adventure today! And don't forget to bring along your Canada's Food Island Gift Cards to pay for the fun!