Stephanie McQuaid, one of our Local Food Advocates and better known to many as @theredheadroamer on Instagram, recently enjoyed a staycation in Charlottetown, PEI's charming capital city. Check out her gorgeous photos and recap below and be sure to follow her Instagram for other PEI staycation inspiration and more.
---
We had the best Saturday wandering around Charlottetown using our Canada's Food Island gift cards to get up to some fun. I love that you can use them for food, shopping, accommodation, drinks, and more! Take a peek at how I decided to use mine.
Mixology Class
We were so excited to take part in the Mixology Class at Hive and Hollow. I love mixed drinks but I have never really mastered making my own cocktails beyond a rum and coke. The course is taught by Ameya Sharma. He has been a mixologist all over the world and even won Best Mixologist for all of India! Ameya was enthusiastic about his profession and very knowledgeable in the field of drinks.

We began the class by learning how to make Caesars. Next, we learned how to make an orange creamsicle cocktail. I really enjoyed learning about all the tools you can use to make cocktails and when to use each one. They are no longer a mystery of random objects behind the bar. We ended the session with a contest between everyone who was in the class.
We were to take everything we had learned during the course to make lychee martinis. It was amazing because I felt that I had the knowledge necessary to balance my cocktail to be a winner. After we made our creations, Ameya tasted them all. Amazingly, I was declared the winner! I would recommend this as a great night out with friends something totally different to do and you walk away with some new knowledge.
Hive and Hollow
After the mixology class, we figured we should take advantage of already being at Hive and Hollow and play some games. They recently did a rebranding; they were formerly the board game cafe. Now on top of the traditional board games they offer, they also host craft sessions and workshops on a wide variety of topics.


After all those drinks we were all hungry and grabbed the tasty sandwiches on their menu. I went full Elvis vibes with their banana, peanut butter and bacon sandwich. I also could not pass up their amazing milkshakes. Mine was smores-flavoured and it even had literal smores on top complete with a toasted marshmallow! We enjoyed a round of Pandemic ( I know cliche right now, but I had never played it). It was such a great afternoon at Hive and Hollow and we can't wait to go back.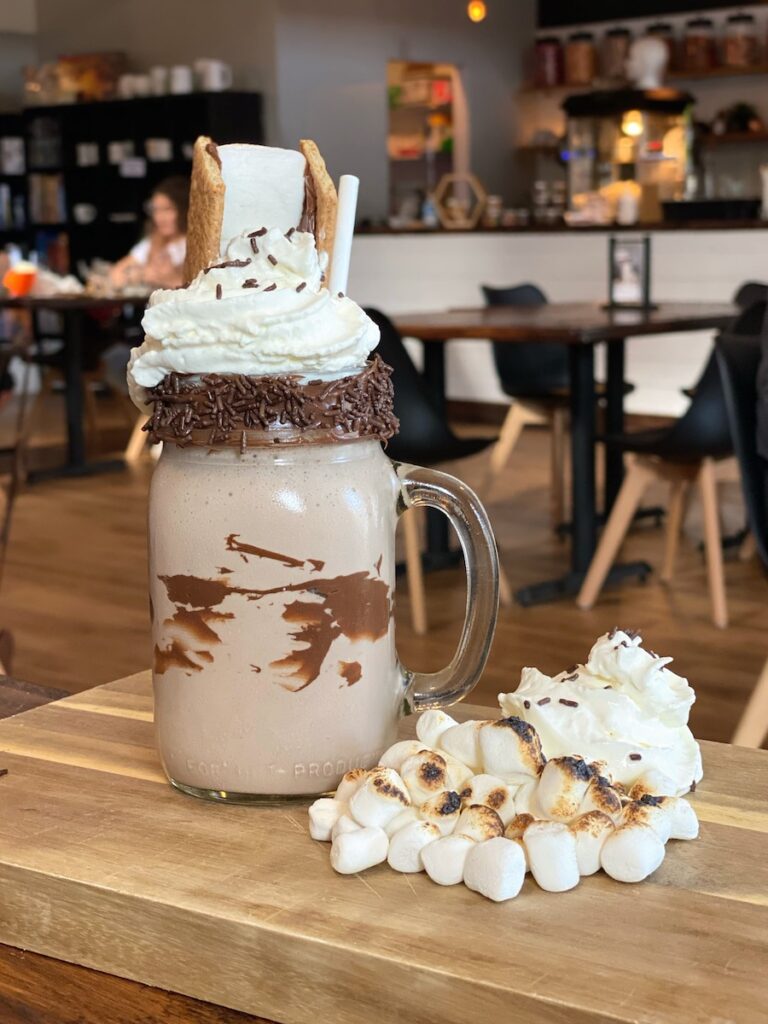 Slaymaker and Nichols Dinner
This place is the coolest. It's all designed around the Slaymaker and Nichols Olympic Circus that came to Charlottetown the same time that the Fathers of Confederation were meeting to talk about forming this great country. The vibe in here is like no place in PEI. I feel like I'm transported back in time to a speakeasy in New York. I just love it.

All the drink menu items are themed around the circus. We cheers-ed with a 'The Ringmaster' and an 'Invisible Man in a Box'! Their food menu is delicious. I wanted one of everything but decided on the mushroom avocado tower, the turkey dinner special, and the halibut. The food here is absolutely incredible. I can never get enough of the halibut. Seriously, get the halibut!


Slaymaker and Nichols Room
I was beyond excited to be staying the night at Slaymakers and Nichols! I just loved the idea of eating dinner, enjoying some drinks, and simply walking right upstairs to your room. I had seen pictures of the gorgeous rooms but had never seen them in person. They are just as stunning as the restaurant.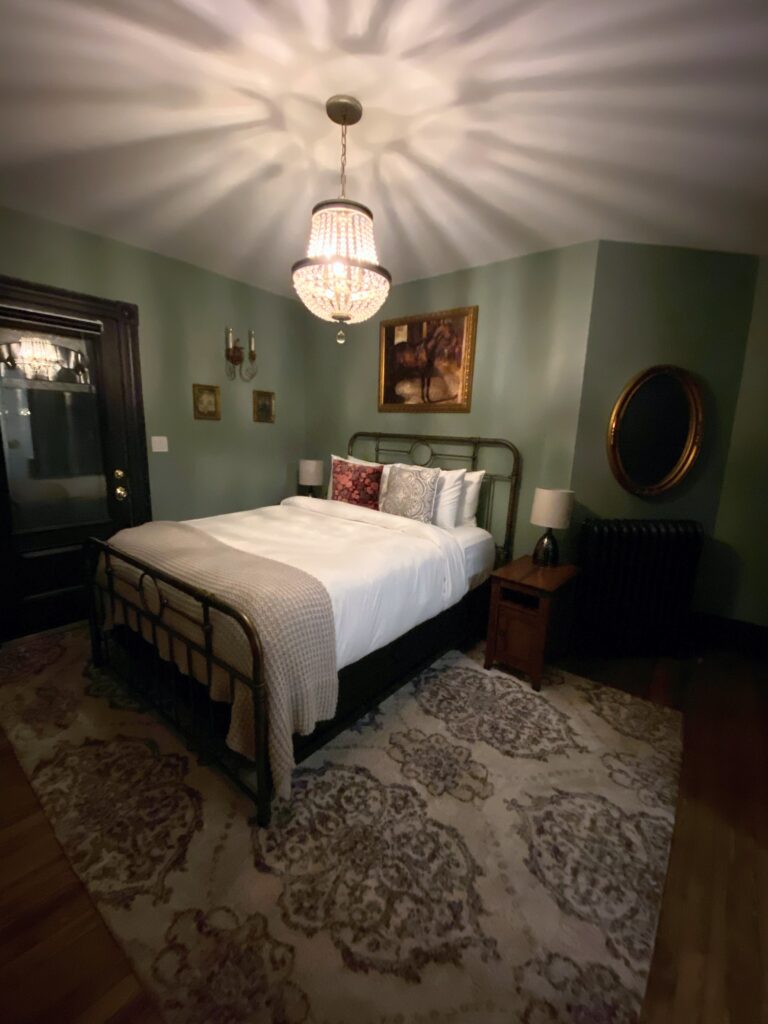 We stayed in the beautiful General Scott room. The design details of these rooms are just perfect. From the gorgeous brass fixtures to the glass chandelier. I want to hire them to decorate my house! We enjoyed a nightcap on our balcony watching people walk around downtown. My absolute favourite part of the room was that it came with a record player and records to pick from. We spent the rest of the night hanging out listening to Adam Baldwin, This place is such a vibe.
In the morning we had a fantastic breakfast charcuterie board delivered to our door. Accompanying it was a french press and a kettle. Just the perfect way to wake up. I was sad to checkout from Slaymaker & Nichols.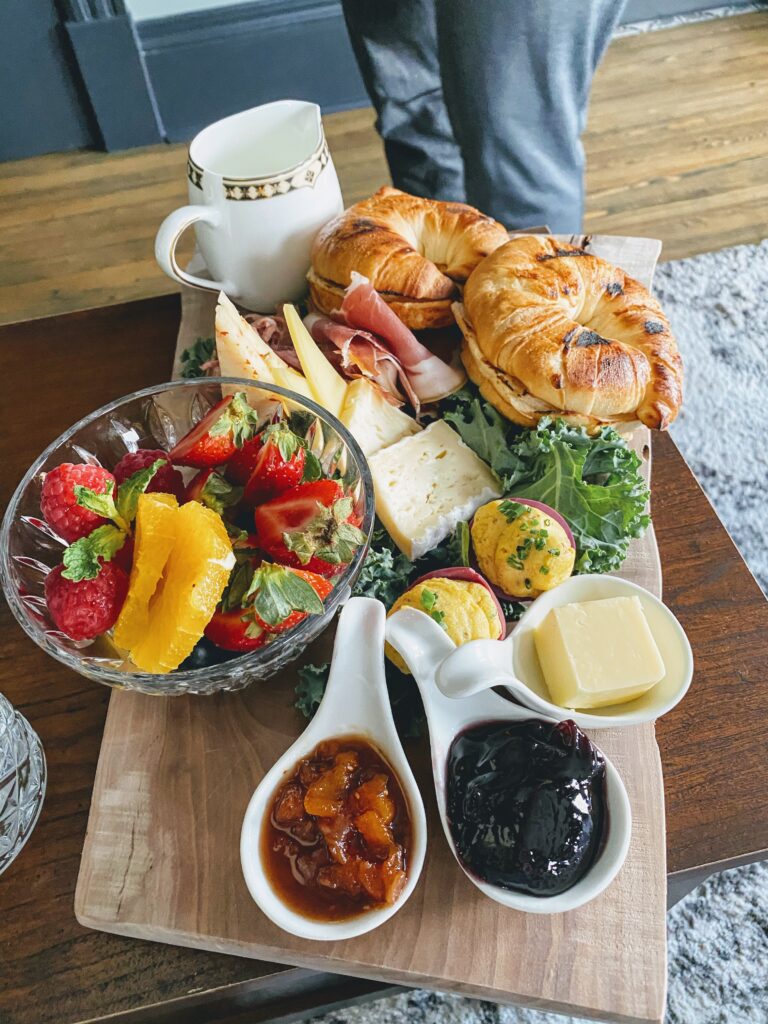 We had such a great little adventure around Charlottetown with our Canada's Food Island gift cards. I hope this gives you some inspiration for all the fun adventures these cards can take you on!