Rebecca Sly, one of our Local Food Advocates, recently enjoyed a staycation on PEI's North Shore and shared her adventures on her blog. Check out her gorgeous photos and recap below and be sure to visit her blog for other PEI staycation inspiration and more.
---
We spent a wonderful weekend discovering the Central North Shore area of Prince Edward Island, part of the Central Coastal Drive. We started off our weekend with a meadery tour at Island Honey Wine Company. Our journey began on the Island Honey Wine "Meadmobile" and experienced a guided tour of the working island farm. The Island Honey Wine Company opened on July 2017. It is situated in the scenic rolling hills of Prince Edward Island between Charlottetown and Summerside in the quaint village of Wheatley River.
We enjoyed pastoral countryside views and tasted the mead right where it was made. The tour includes a personal handmade clay tasting cup that is yours to keep. You make four stops in four different fields and get to taste: Wildflower Sheep Meadow, Haskap Honeyberry Acres, Laura's Lavender Patch and Cyser Orchard. See what you are tasting and taste what you are seeing. Every stop is a chance to taste their award-winning mead varieties. The tour takes about 50 minutes. For the months of September and October, they will be running the tours only Saturdays and Sundays at 11:00 am and 2:00pm. They also offer private tours (minimum 6 people) during the weekdays but you have to book it in advance. The price per person is $25 + tax and is available for those 19 and over. Space is limited due to social distance guidelines, so book in advance by emailing islandhoneywine@gmail.com. Island Honey Wine Company are also merchants in the new Canada's Food Island gift card program, mead can be purchased from their farm shop year-round.

Our next stop was at one of my favourite spots here on Prince Edward Island, The PEI Preserve Company.
In 1987, owners Bruce and Shirley purchased the building formally a 1913 Creamery, a pretty well worn down building at the time, on the bank of the River Clyde, in the lovely village of New Glasgow in Prince Edward Island. Their goal was to renovate and create a food destination that welcomed and treated guests to food with integrity and flavour. It all started with their low sugar preserves, specialty foods, blending full leaf tea.
They have developed the location with hard work, positive word of mouth from their customers and customer caring staff. They have met most producers of the products that they sell, including Dunoon Pottery in Staffordshire, England (my home county).
Their seasonal restaurant is one of the busiest on the Island; they serve tasty local comfort food at affordable prices. My absolute favourite dessert here is their Raspberry Cream Cheese Pie, a great tea pairing with this is their peach green tea.
The Prince Edward Island Preserve Company are also proud merchants of the NEW Canada's Food Island gift card program.
A part of our self led Central North Shore itinerary included a stay at The Graham Inn in the heart of Green Gables shore. Nestled against the National Park, on picturesque Route 6, just 3km east of Cavendish and minutes from stunning beaches, casual and fine dining, live theatre, award-winning golf courses, shopping, fishing, Green Gables attractions, and much more.
The family-owned B&B is one of the many accommodation partners in the new Stay and Savour package, part of Canada's Food Island gift card program. If you book a Stay & Savour package between September 4 – October 31 period and you'll receive FREE Canada's Food Island gift cards. 2 nights at The Graham Inn costs $270.00 and you receive $50 vouchers to spend at local restaurants, shops, and various other businesses. Check out the full list of Stay and Savour partners here https://peigiftcard.ca/accommodation-directory/
All of their guest rooms are soundproof, have full en-suite bath and are equipped with air-conditioning, fan, satellite TV, and WiFi. Each is uniquely decorated so you are sure to find one that will inspire just the right holiday mood for you. Included with your stay is a gourmet breakfast – start your day feeling pampered with a decadent 3 course breakfast served on an elegant table setting. I particularly loved this part of our stay.
Supper on our first night was at The Mill in New Glasgow, a restaurant, community hub and take-out marché that celebrates local food as a connector of people to place, history, family and civic life. Chef Emily Wells and her team are known for serving high quality comfort food prepared with locally-sourced ingredients and international flair.
The Mill's dining room, which overlooks the River Clyde and the rolling hills of New Glasgow, is the perfect place for a romantic dinner for two. This was after all our first night away child free in over two years.
Traditional recipes are updated with a contemporary twist, placing local ingredients supplied by PEI farmers, fishers and food producers front and centre. Community is the beating heart of The Mill — the building has a rich history as a public hall and gathering place, which continues today thanks to Emily's work with The River Clyde Pageant, Farmers Helping Farmers, and other local initiatives. We enjoyed the soup, lamb and feta meatballs, ribs with mac and cheese and also the pad thai. Portion sizes on the mains are large, which is great because you can always takeaway leftovers for lunch the next day. You also have to try their delicious River Shine Martini, it is out of this world.
The Mill in New Glasgow started life as the New Glasgow Hall, built around 1896. The Hall served several functions in the community; as a courthouse and as a gathering place for social events, meetings, debates and dances. In later years, the New Glasgow Hall was used for training sessions by the Reserve Army, local church suppers, and square dances hosted by the Junior Farmers. In the 1960s, the Hall was converted into a grist mill by the Dingwell family, and sold to Roland Larkin in the mid-1970s. In 1997 it was converted by Roland's son and daughter-in-law, Harvey and Rosemary, into the Olde Glasgow Mill Restaurant. Emily Wells purchased the restaurant from the Larkins in 2015 and renamed it The Mill in New Glasgow.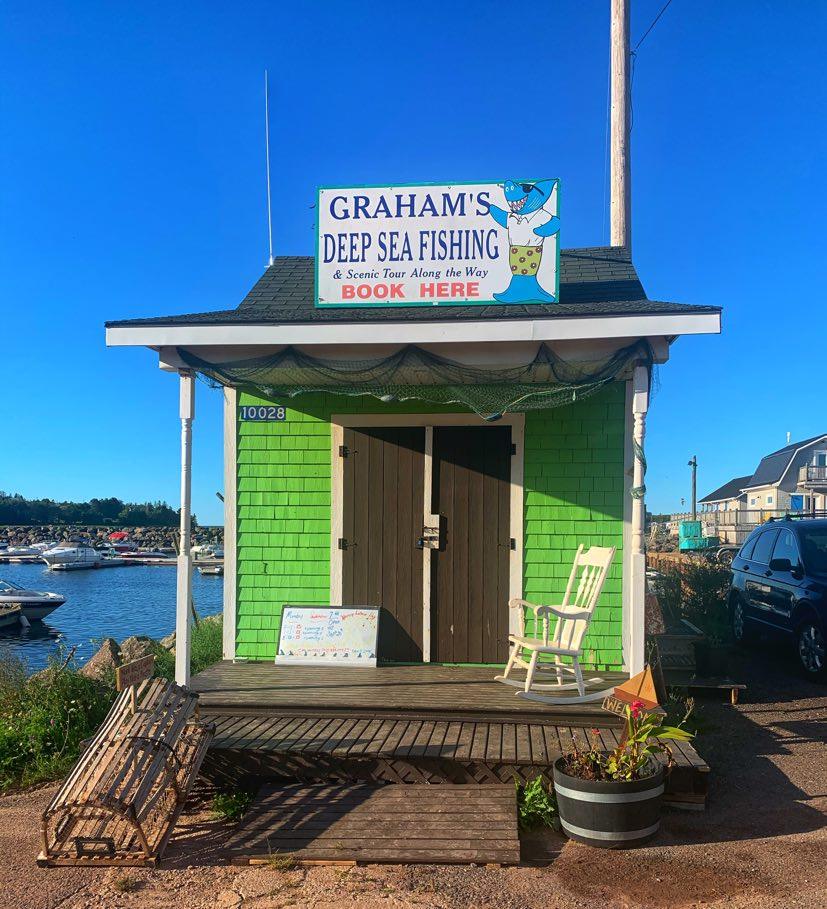 The next morning we headed off for a day of fishing with Graham's Deep Sea Fishing in Stanley Bridge. We got to explore the beautiful and historic Gulf of St. Lawrence, to the north of PEI, and caught our own fish along the way. Rods, reels, bait, life jackets, rain gear, and fishing license were all included. In addition to their daily fishing tours of the Gulf, they welcome charters for reunions, businesses, and sports parties. Onboard washroom and canteen service are provided.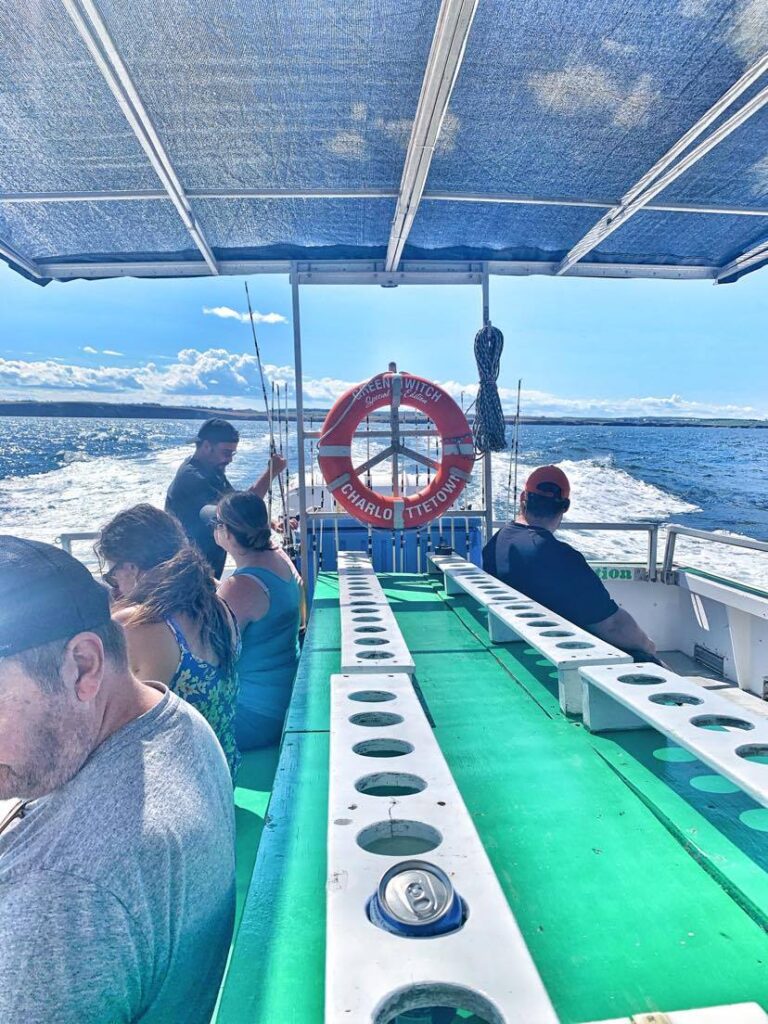 The Greenwitch is a wheelchair-accessible, government-approved fiberglass vessel made in 2008. Daily sailings at 8:15AM, 1:15PM, and 5:45PM. (5:30PM after August 12.) Deep-sea prices: $40 adults, $35 youths, $30 children 12 and under. Reservations recommended. We headed out for about 45 minutes until be found our spot just off the shore of Stanley Bridge, and boy oh boy did we catch ourselves some cod. Colin, my husband caught his biggest cod of the season coming in at 73 cm.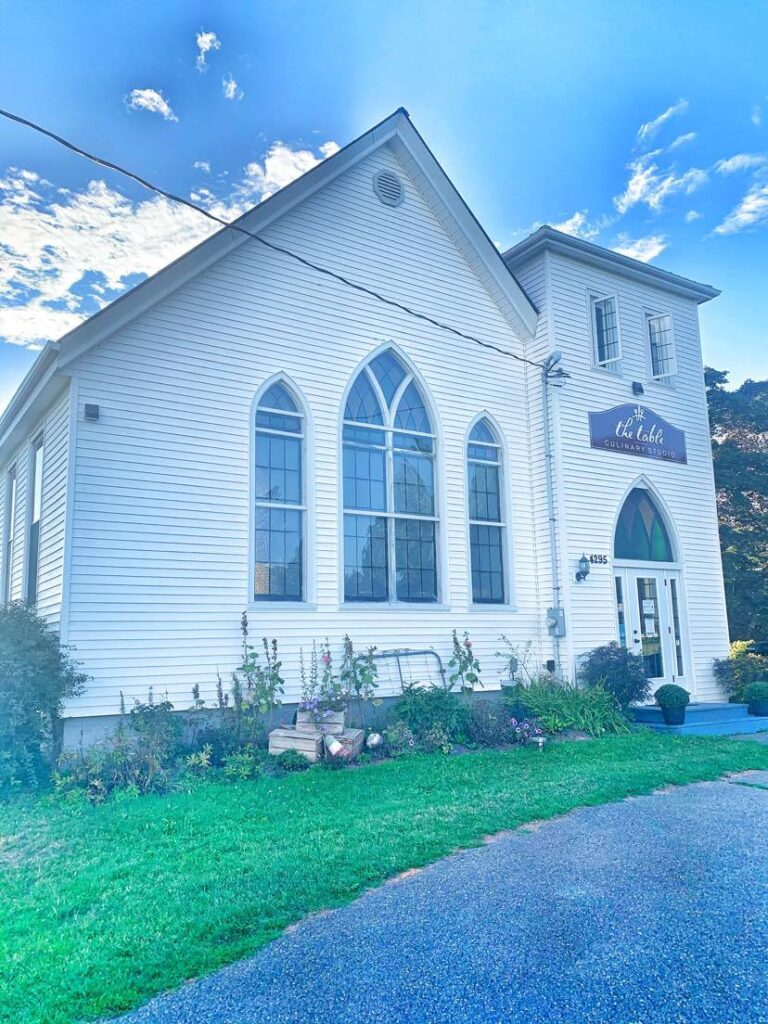 We ended our weekend on a harvest-themed high at The Table Culinary Studio in New London. The Table is New London's award-winning culinary studio with a focus on experiential cuisine. The Table is dedicated to using and promoting the local foods grown and harvested right here on Prince Edward Island. Cooking classes, hands-on experiences, and evening restaurant dining at The Table have also resulted in international media recognition for bringing local history, food, and culture together.
At night, The Table is transformed into an intimate Island restaurant for up to 20 guests, filling the old church with tantalizing aromas and the sound of shared stories and enjoyment as guests gather together, and share a meal with old friends and new. We tried their Harvest Feast four course tasting menu and it was absolutely delightful, a real taste of autumn harvest here on PEI.
The Table offers farm-to-table dining in a beautiful converted rural church setting. A delicious four course feast was prepared before our eyes in the open kitchen, showcasing the finest of seasonal island produce. Everything was utterly delicious. The Table are also merchants in the new Canada's Food Island gift card program.
The perfect ending to our fall flavours weekend here on Prince Edward Island.