It might be tempting to believe that you have to travel to far-flung destinations to discover new spots, have a great adventure or create unforgettable memories.
Well, I'm here to tell you from first-hand experience that you can experience all of these things (and more!) in your own backyard. Not literally of course, but close enough. Say… within an hour's drive of your hometown.
Well, that's how I felt after my Red Sands Shore staycation in any case. What an amazing two days of discovering new spots to eat, drink, and be merry. Best of all, we had the chance to meet SO many amazing entrepreneurs – from farmers to brewers, restaurateurs, and more. To say we had a blast would be an understatement! Oh, and to sweeten the deal, it just happened to be our 2nd wedding anniversary – I couldn't have asked for a better way to celebrate than with adventures close to home.

Fun on Farms
True fact: I love visiting farms. Especially when they're run by friends or friendly faces, as was the case on our Red Sands Shore staycation!
South Melville Road happens to be home to two of my very favourite farms and we had the chance to visit both during our two-night sojourn from 'the city'.
On a bright but deceptively chilly Tuesday morning, we landed at Soleil's Farm, owned and operated by my dear friend, Soleil Hutchinson, along with her partner, Lauren. Soleil has been farming for over a decade and currently produces a bevy of certified organic crops – from tender greens to sweet potatoes to peppers and more.

If you tend to eat at Island restaurants that source their ingredients locally, you've very likely seen reference to 'Soleil's greens' on more than one menu. In addition to supplying restaurants and some retail shops, Soleil's Farm also operates a CSA (Community Supported Agriculture) program where customers have the opportunity to sign up for a weekly or bi-weekly vegetable share over the growing season (16 weeks).
Soleil is SO committed to building community and to the tenets of collaboration and both shine through in every aspect of Soleil's Farm. From the fact that she partners with other farmers to provide her CSA customers with the greatest variety of products (for example, during the beginning of the season, our basket included greenhouse cherry tomatoes for Schurman's Family Farm), to the 'open to all' farm potlucks she hosts on her farm each year (well, when there's not a pandemic…) and the harvest work parties she holds. She's also worked to bring fresh veg to the soup kitchen and invited her CSA customers to join her in this altruistic activity.
Time and time again, I am floored by Soleil's deep knowledge of soil management and all the other science needed to grow food sustainably, as well as her commitment to continuous learning to improve her growing techniques and her operational processes. I am heartened to know that by spending my dollars on Soleil's CSA, I am not only getting the very best and freshest produce, I am also supporting a local farmer/entrepreneur and her dream team of workers (many of whom are also friends of mine!).



Just down the road from Soleil's Farm (like, literally a 1-minute walk), is another dear friend of mine, Adam MacLean, who runs Wildwind Pastures (in addition to also working a full-time job with the Dept of Agriculture).
Adam is a shepherd who raises his flock (ranging from 400 to 600 in number, depending on time of year) entirely on pasture. In case you didn't know, that's very uncommon in Canada (given our cold winters), but Adam invested in a hearty breed of sheep that can handle the Canadian weather.
I've written a couple of articles about Adam (one for Salty and one for Harrowsmith), because I find his story and his motivations for farming fascinating and inspiring in so many ways.
Adam once told me he's a grass farmer and the sheep are just his way of managing the land and grasses. Ultimately, his goals in farming are environmentally-driven. He's working to create a regenerative system that helps restore the land and, in doing so, sequester carbon. Adam's also wholly dedicated to animal husbandry principles of the highest standards – his flock live the good life on these pastures, alongside their guardians, five Great Pyrenees dogs. He's doing a phenomenal job and has ambitious plans (if you haven't gathered already, Adam is a VERY ambitious person) to expand his operation in various ways. I can't wait to see what he does next and to visit him and the sheep again, because when you need a reason to smile there's nothing quite like a field full of sheep 'baaahing' their hellos.
Just a short drive and we found ourselves in Kinkora, where we visited Peter Roberts' potato farm. Peter is passionate about antique farm equipment and offers private 'Taters, Tractors & Tales' tours through Experience PEI. He has a HUGE warehouse filled with all sorts of farm equipment from the late 1800s and 1900s. I love it when someone finds great joy in a particular hobby and wants to share their love and knowledge. It was evident from the minute our tour started, that Peter was genuinely and deeply passionate about his antiques and his enthusiasm made the tour extra special.

It was super interesting to see the evolution of the equipment and to be reminded of how innovative farmers (and people in general) have been throughout history. Even when horse power actually came from horses, the equipment that farmers were using was actually quite sophisticated in design.
Oh, and did I mention how excited Luke was? He loved that Peter had rigged up a number of engines along the tour so we could see the machinery in action.We also got to meet Peter's father, Lorne, who has surely seen many changes in every facet of PEI during his 87 years.
.
And after our antique farm equipment tour, Peter showed us some of the very modern equipment they use on the farm today. To say it dwarfs the older equipment in size and function would be an understatement. I was bowled over to discover one giant piece of equipment, a windrower that collects 6 rows of potatoes at a time, was manufactured right here in PEI by Allan Equipment. Who knew? And how cool!

Craft Brews and Artisan Ciders for the Win
I'm sure I'm not the only one (by a mile) that gets excited every time there's even the whiff of a rumour that PEI is getting a new craft brewery, cidery, or winery. I can remember a time not so long ago when PEI's beverage scene looked very different than it does today. I'm grateful for the trailblazers and for all the new kids on the block that are making our Island brewing, distilling and wine scene all the more exciting. And we got to visit some of them on our wee staycation!
When's the last time you visited Borden? No, I don't mean to cross the bridge or return from the mainland. I mean when's the last time you hopped in the car with some pals and said "Hey, let's check out what's happening in Borden today."
It's ok if you've never uttered those words. Truth be told, it's not really been on my radar either.
But that all changed when we paid a visit to the heart of Borden (aka Gateway Village) on Day 2 of our staycation. We were there to check out the town's newest (and only) brewery, Lone Oak Brewing Co.
Before I even opened the doors, I found my mouth agape. OK, maybe not literally, but I was certainly shocked at the size of the brewery. I had been picturing a modest taproom, but what we found was a gorgeous, sprawling space with an inviting bar and a decor aesthetic that was warm but restrained. I loved it already and I hadn't even ordered my beer. To be fair, it was only noon and I wanted to pace myself.
I opted for a flight and was pleasantly surprised to find that I loved every one I tried, including TWO delicious sours, a barrel-aged (in wine!) brew, and a pilsner. Starting to see a trend here? Lone Oak, you surprised me in all the best ways. I'm not a big beer drinker, but I might just become one now.
We had the chance to chat with two of Lone Oak's three owners, Jared and Dylan. Spencer, the third owner, and head brewer must have been busy concocting yet another delightful sour that day. They gave us a warm welcome and Jared took us on a tour of the operation. We learned some of the backstory about the brewery, but I was more fascinated with what its future holds.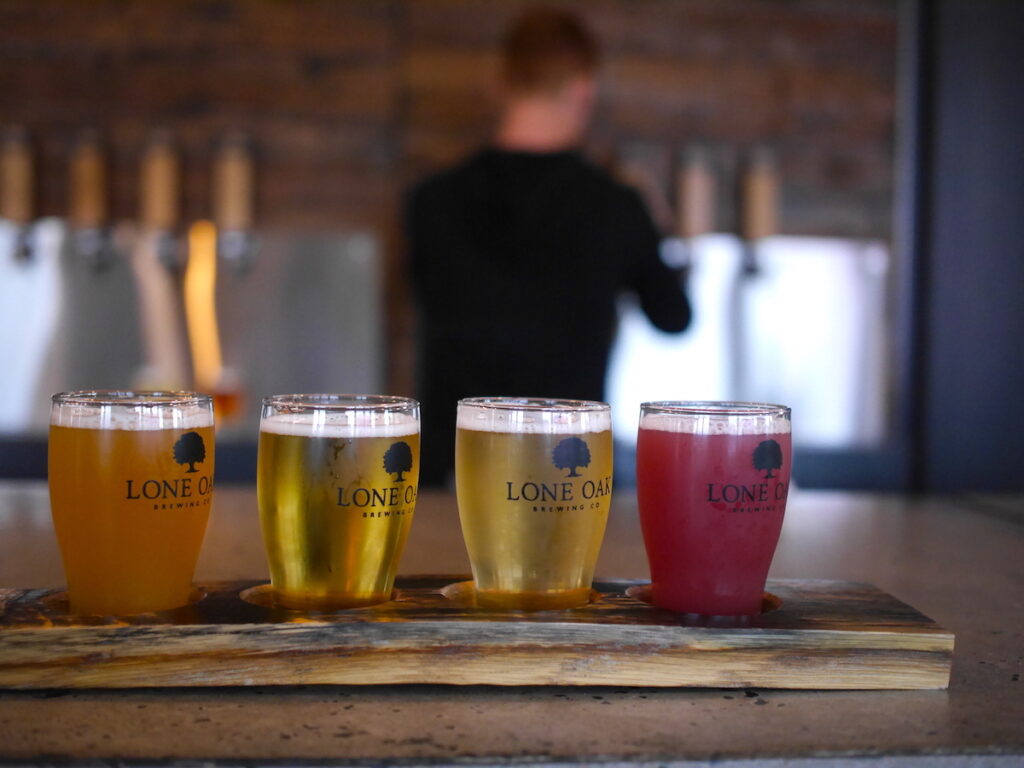 Lone Oak only opened its doors in Nov 2019 and within a few months had to pivot its entire operation to get through a pandemic. The guys quickly decided to offer up FREE at-home delivery across the Island. That's seriously impressive when you consider how rural PEI is and the amount of driving/fuel that would be required to provide this service.
Well, it seemed to work, because I recall seeing that Lone Oak delivery van almost every time I was out for a walk around Charlottetown during the lockdown. When I asked Dylan if they were selling off-Island yet, he said they'd like to be, but right now they have a capacity issue. In other words, their delicious beer is flying off PEI liquor store shelves and they're working just to keep those stores stocked! In terms of problems for a business to have during its first year, it's probably the best one you could hope for!

I expect we'll be seeing a lot more from the Lone Oak crew over the coming months and years. And I daresay, Borden is going to become a must-visit destination for many craft beer lovers from near and far as word of its great brews travels!
Our Red Sands Shore staycation also afforded me the opportunity to visit a place I've been wanting to check out for ages- Riverdale Orchard. There's really no excuse for not visiting sooner – this artisanal cidery and orchard is an easy 25-minute drive from Charlottetown, and located just off the Trans Canada highway.

Well, in any case, when we landed at Riverdale Orchard it was everything I imagined and more.
We were warmly welcomed by Anne and Alec Jamieson, the Scottish couple that decided to PEI a few years back and boldly took on the adventure of building an artisanal cidery. This was their 'semi-retirement' gig, Anne told me as she and Alec led us through a tour of their cidery and orchard.
When Anne and Alec set out to build the cidery, the regulations on PEI required that anyone producing cider must grow their own apples. In other words, you had to have an orchard if you wanted to create cider products. So, their plans to build a cidery expanded to include planting an orchard as well. Fast forward to 2020, and anyone with a craft brewing license is permitted to make cider as long as they add something to the cider (e.g. berries, hops, etc.). That's why there's been a significant proliferation of ciders at PEI breweries in the past couple of years.

But back to Anne and Alec's journey. As they showed us their cider-making equipment, Anne explained that from the outset they wanted to create a high-end, traditional cider product that contained no additives or flavourings. The end product would be a bottled cider containing only fermented apples. No added sulphites, yeasts, hops, grains, water, apple concentrates – nothing but three varieties of apples. Or, as they like to say at Riverdale Orchard, "nature in a bottle."

When you sample their ciders, you can immediately taste the difference between this artisanal product and the sugary, mass-produced canned ciders you can get at the liquor store. I'm not saying one is necessarily better than the other in terms of taste, because that's a personal preference. But there's no doubt that Riverdale's product is pure, crisp and of the highest quality.
As it turns out, one of the bigger challenges Anne and Alec have faced in their cider journey is educating Canadians about traditional British-style ciders, which are similar to the type they are producing at Riverdale Orchard. In order to bring more customers to their orchard and cidery, the couple offers free tours of their orchard. And on weekends throughout the entire year, they also serve up an apple-infused menu featuring burgers, curries, and more! With Anne being the UK equivalent of a Red Seal chef, I have no doubt their dishes are as delicious as their ciders. During the winter, they also offer guided snowshoeing tours of their property, complete with warm cider at the end of the trip, of course.
So. Much. Food. So. Much. Deliciousness.
My attempts to break my blog out into themes ran slightly amuck thanks to the amazing food experiences offered by the two breweries we visited during our staycation. I've already mentioned our visit to Lone Oak Brewing Co. above, but what I neglected to mention was that they also partnered up with Terry's Berries food truck to create the perfect pairing of beer and food on-site!

We had a super yummy and filling lunch from Terry's, which included his famous Salt Daddy (loaded with cheese and lobster) and one of their Burger Love options. It was all washed down with Terry's very own Blueberry Lemonade Vodka creation, which Lone Oak makes in-house. I'm a sucker for anything that features lobster that's already been deshelled, but holy moly – lobster AND cheese AND a big, yummy bun?!? Count me in! It was just as yummy and filling as the picture suggests, possibly more so! Luke inhaled his burger, so I can't speak to how good it was from first-hand knowledge, but Luke assures me it was delicious. I'm going to have to get better at sneaking in a bite of whatever he orders before it's all gone.
We wrapped up our second staycation day with a visit to Evermoore Brewing Co in downtown Summerside, in what used to be the town's train station. It was my first visit to the spot and it did NOT disappoint!! Where to begin?

Well, first off, our server happened to be the owner, Alex. What a hoot! An absolutely delightful, genuine guy who had us laughing and feeling right at home from the minute we arrived. Besides his welcoming demeanor, I immediately warmed to the ambiance of the restaurant/brewery. It was full of quirky decor, soft lighting, and comfortable seating. Everything you'd want for a get together with friends or a romantic dinner with your partner.

We were joined for our dinner adventures by Stacey, Luke's sister, and her husband, Craig. They made the drive from Charlottetown to experience Evermoore for the first time too. We began the evening with a flight of in-house beers, which included an intriguing Malibu Sour (coconut flavoured!), and a Batten Brown that was just to my taste.
As we perused the seasonal menu, Alex spoke about the importance he places on sourcing food from local farmers and other local suppliers. Well, let me tell you – the freshness and high-quality of those PEI ingredients was truly showcased in their dishes. The Lobster Corn Chowder was absolutely sublime and the Early Fall Harvest Salad was everything a salad should be and more! Everyone at the table thoroughly loved what they ordered and we all agreed Evermoore was reason enough to make the hour's drive from Charlottetown for another dinner date in the future.
A quick aside if you'll bear with me. After returning from our staycation, I was messaging with my sister when she asked which restaurants I'd recommend for her birthday. Since she lives fairly close to Summerside, I assumed she'd already been to Evermoore, but I was wrong. She immediately arranged to test-drive it with friends that Friday evening and visited two more times in the following 10 days. Apparently, my recommendation was solid!
During our staycation we also had the chance to experience the much-talked-about PEI in a Box, which was the brainchild of the folks at Experience PEI. When it became clear that the pandemic was going to prevent many folks from visiting PEI this year, the savvy Experience PEI team came up with a way to send a taste of PEI to anyone across Canada that was missing the Island's incredible flavours.

So, on our first night at Treetop Haven, we dove into our PEI in a Box kit, which was filled to the brim with exceptional products from PEI food producers. I felt like a kid on Christmas morning as I reached into the box and pulled out the items one by one. There were two big packages of cheese from Cows Creamery, Yo-Yo cookies, hot pepper jelly from PEI Preserve Co., Raspberry Cordial, and the quintessential PEI ingredients – lobster and potatoes. I whipped up a feast for us, but to be honest, we barely made a dent in what was provided – more than a meal for two, that's for sure! This would make such a great gift for anyone who is living away from PEI or considers PEI close to their heart. Kudos to the folks at Experience PEI for coming up with this brilliant idea and creating an exceptional experience.
A trip to the Red Sands Shore area just wouldn't be complete without a visit to The Handpie Company! I was elated that Treetop Haven was a mere 3 kilometers from handpie bliss. This was the perfect opportunity to stock up on delightful, buttery pockets of pastry filled with all sorts of deliciousness AND give handpie high fives to Sarah Bennetto O'Brien, the owner.


I've known Sarah for quite a while now and she never ceases to amaze me with her positive energy and big smiles! I'm also mighty impressed with her marketing savvy, commitment to providing good jobs in rural PEI, and dedication to creating an exceptional food product. She's a multi-talented powerhouse, as evidenced by the phenomenal growth of The Handpie Company since they first opened their Albany location a few years back.

Sarah's managed to navigate the pandemic, quickly pivoting to create an online ordering system and offer trunk drops back in April. And just like the rest of the folks we visited, she's super appreciative of all the support from locals and our bubble visitors. Just another reason to buy ALL the handpies, am I right?


And for those of you with a sweet tooth like me, she even has dessert handpies now with tempting flavours like strawberry rhubarb, cherry, and birthday cake! Luke and I have been enjoying our handpie dinners since getting home from our staycation – they're super convenient AND so, so yummy.
Into the Forest
Besides exceptional food and drink experiences, I daresay the best way to elevate any travel experience is to find yourself unique and inviting place to stay. Well, I can assure you that our staycation abode met both of these criteria and then some.

I'd heard a lot of buzz about Treetop Haven during the past year and was excited to finally experience this Mount Tryon wellness destination for myself. We checked in by phone with our host, Sheila, who gave us a warm welcome and instructions on how to access our TreePOD.

Nestled in 50 acres of woods off a quiet secondary road, Treetop Haven is home to five geodesic domes that they refer to as TreePODS. Each pod is elevated from the ground and features a large wraparound deck and outdoor hot tub set against a backdrop of tall poplars and other deciduous trees. Inside, the domes feature all the comforts of home including a fully-equipped kitchen, bedroom (or two, depending), bathroom, and living area. The backside of the dome features a giant window that overlooks the forest. Now that's my style of camping.
Wow, what a phenomenal place to rejuvenate. It's amazing how easy it is to forget about time and the 'busyness' of the world when you're surrounded by nature. We soaked up the sights and sounds of the forest from our hot tub, spent some time reading, and explored the woods via Craig's Way Trail, named in honour of Sheila's brother. It was the perfect place to celebrate our second wedding anniversary and a wonderful reminder that we live in a stunning place on Earth, where nature is never far away.
A Final Note
If there's one thing I've taken away from my PEI staycations (you can read about my one Up West here) this summer, it's that I need to get out and explore this amazing Island more often.
Take more red dirt roads. Get out of my own comfort zone.
Visit those restaurants, farms, breweries, and other gems in rural parts PEI that I keep promising myself I'll get to 'some time'.
Learn more about the people behind the products and places that make Canada's Food Island so incredible and unique. Their stories will warm your heart and make you want to support them in every way you can…. even if it means you 'have' to stock up on cider, craft beers, handpies, lamb meat, organic veggies, and more.
We live in a magical place. If you need reminding of that, as I did, I highly recommend hitting the road and visiting some of those places you've been meaning to get to for ages. And discover new ones you didn't even know existed.

It'll be worth it, I promise.